27 Mar

"Faith in Action is Love – And Love in Action is Service" – Mother Teresa
From the desk of Kim Grzywacz
I have faith. My faith is strong. I do know however, that faith alone will not suffice. I was searching for Faith in Action quotes and found this one from Mother Teresa. It hit home. My faith gives me peace, strength, hope – I need these three to accomplish tasks to move us forward and beyond COVID-19.
The sections below will describe what CIT Signature Transportation has been doing and some links that I hope help you.
Amy Edmonds has been sharing information with our drivers. I have added some of those links below. She is also sending them online training videos – MCI has over 33 hours!! There is a Motorcoach Operator Certification for completing the program. They may not be behind the wheel, but knowledge can still be gained.
Criminals Exploiting COVID-19 – from the Justice Department
Drivers
Our drivers, yes, we still have drivers ready to roll. While we do not know what the call will be, we are ready to put a driver in a bus and go. Tim Holmes, Ashley Haines, Taylor Rich, Dan Ankebrandt, John Hanna, and Dakota Holle have been completing the online training, and assisting where needed.
Maintenance
Our fleet was ready to roll for the busiest March we were going to have. So, what could the shop have to do? Plenty. We are placing some fleet up for sale. This was a plan pre-coronavirus. If you are interested in a school bus or minicoach, give us a call. Tailgating season will be here before we know it.
Also, the shop is focusing on our lawn equipment. Have you noticed the green grass showing? Inventory will be taken along with cleaning and organizing. You know, those items you like to put off until you have time.
Ultimately, our fleet will be ready to roll when needed because of the work completed by Kyle Edmonds, Stuart Burgher, and Jeremy Grzywacz.
Cleaner
Silvestre Cisneros is still hard at work. He has been trained on the best practices of disinfecting and has stepped up his already stellar game. (Although, the buses have been quarantined for several days now. It's ok to laugh.)
Accounts
Craig Sackett has been processing payroll, responding to Iowa Workforce Development to insure our furloughed employees do not have any delays in collecting unemployment, and assisting John in gathering all of the data needed to complete the many forms necessary to keep business rolling. Sometimes, Craig even jumps in to help with any dispatch needs we have.
Operations
John Grzywacz has been diligently working on all things business. He has a plan in place. Navigating through the many forms that need to be filled out to assist with this plan takes time. Yesterday, he spent 3 hours on hold to have questions answered. Overall, the conversations have been positive. With each new day comes new information. Adjustments are made, and we keep moving forward.
Sales
I am looking forward to the return of Kim Gibson and Abigail Badger. In the meantime, I, Kim Grzywacz, am here to assist you and look forward to the transportation you need in the future. While it does seem the majority of my sales time is spent on cancelations, I have been doing quotes and making bookings!
OH – and if Emily Grzywacz answers the phone, do not be surprised. She teaches at DMACC and is using our office as her office since her other favorite workspace, Starbucks, is off limits. She is assisting us with phones and assorted tasks as well.
Motorcoach Industry
When not working on sales, I have been advocating for the motorcoach industry and tourism. I have learned that the networks you build because it is "good business practice" are truly beneficial in a time of need. I have created 3 video messages. They are posted to our news page where you found this article.
If you watched video 3, then you know Iowa is LEADING the nation in support. Click this link where you can use your voice to support us, too. Thank you, neighbor.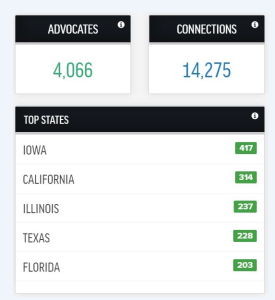 Are we social distancing while we accomplish all of this? Yes. One, it is easy when some of the people you are with at the office are the same people you are with at home. Also, our offices are set up great for social distancing with 2 levels and individual spaces. Doors are open. Clorox wipes are everywhere.  Zoom meetings are occurring. We got this!
YES! We are still taking calls and emails. Let's focus on the future. Submit your quote today.
Call 515-233-0286