01 Jul

Procrastination Is a Good Thing?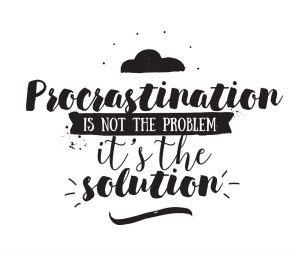 I'm tapped out of 80's themed newsletters. Truth be told, these ideas came to me as the deadline for creating the newsletter loomed over my head. Procrastination can actually be a very good motivator! My book club is reading Decide by Steve McClatchy. He talks about the usefulness (and the detriment) of procrastination in this video: The Power of Procrastination
I decided it was time to create another video myself. This one because I miss you! I wanted to send you a smile, ask for your support, and have you call me to chat. CHEESE! A Cheese Debate?
Currently when our wheels do move, our top client is the National Guard. It was an honor to transport them as they left their families for a year long deployment. Tim and Dan made sure to wear their ties representing the branch they served.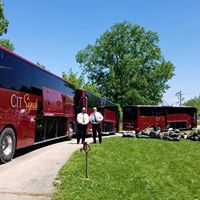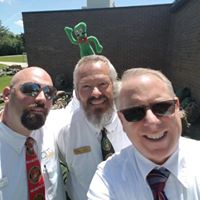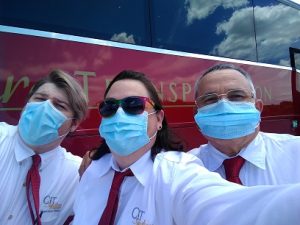 We even made the news:
Deployed Soldiers Leave Loved Ones Behind
Iowa National Guard Send-Off Ceremony
Community Supports Hundreds of Iowa Soldiers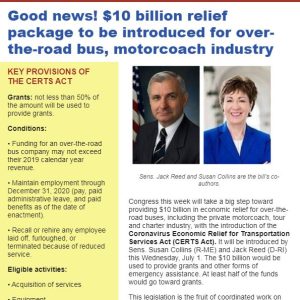 All of the hardwork the motorcoach industry has been putting in to educate our elected officials about missing the bus in the CARES Act is paying off. July 1, Senators Jack Reed (D-R.I.) and Susan Collins (R-Maine) are introducing the CERTS Act. This will assist the motorcoach industry in staying viable while we patiently wait for group travel to return to its pre-pandemic state.
I ask for your support. Please contact your elected officials and let them know you need the motorcoach industry to survive. Ask for their support of the CERTS Act. (I find the acronym ironic. CERTS – always good to have a breath mint ready for use. You may not need one daily, but when you do, you are glad you have some handy! Just like a motorcoach.)
Contact your Senators first, This is where the act begins. Congress will also need to support this – let them know you want their support when it reaches them.
I have completed my series on "Selling" to your elected officials. While I write this from the motorcoach perspective, my tips can be transferred to any business. The 1st 2 were in last month's newsletter. You can find them all 5 and one summary of them all here: CIT Blog/News
We continue to update our website with our enhanced protocols as we gain more information and best practices. June 22 was our 4th update.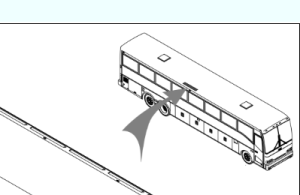 These pictures were borrowed from the IATA (airline industry). There is a link to the video on our mitigation page. 
Important note: HEPA filters in a motorcoach have ALWAYS had an exchange rate of 30 times per hour. Compared to a hospital at 6 times/hr and an airplane at 12 times/hour. We have always been and will continue to always be a safe mode of transportation.
I hope you are surviving mentally and physically. Call me if you want to chat, discuss the value of cheese, or get a quote. I'll be here, moving forward and trying not to procrastinate. Kim Grzywacz
Call 515-233-0286