08 May

Enhanced Protocols for Virus Mitigation

CIT Signature Transportation has taken enhanced health and safety measures for you, our other guests, and our employees. You must follow all given instructions while traveling with CIT Signature Transportation. An inherent risk of exposure to COVID-19 exists in any public place where people are present. COVID-19 is an extremely contagious disease that can lead to severe illness and even death. According to the Center for Disease Control and Prevention, senior citizens and those with underlying medical conditions are especially vulnerable. By traveling with CIT Signature Transportation, you voluntarily assume all risks related to exposure to COVID-19. Join us by keeping each other healthy and safe by practicing good hygiene.
Employees
As Iowans, everyone has access to Test Iowa. An assessment is available to assess ones' current risk. Testing sights are listed. We recommend all of our employees complete this assessment. #crushthecurve
Employees are encouraged to monitor their health. They are not to report to work if they are ill and/or showing symptoms. Self-isolation should occur for anyone experiencing symptoms of COVID-19, while awaiting test results, or if diagnosed.
We have implemented social distancing within our offices. Hand sanitizer and disinfecting wipes are scattered throughout the offices. Employees have been instructed to wipe down their work stations morning and night. Our offices are cleaned weekly. Working from home is also an available option.  PPE kits have been prepared for our drivers. 
Motorcoaches
While our motorcoaches were stationary, we completed a thorough detailing of the interiors. This included shampooing and treating the seats. 
We have been certified as an AssurClean company. You may learn more about the certification process by clicking here.
Watch the video below to see how we are abiding by the AssurCLEAN standard.
After a trip occurs, our normal cleaning process has been enhanced to include the wiping down of common touch surfaces with a bleach based solution. CIT Signature Transportation purchased a Hurricane Ultra II. (You can see this fogger on our video entitled Isn't She Lovely? ) We fog the interior of the motorcoach, then close the vehicle to allow the Bioesque product to neutralize the virus. This chemical meets the EPA guidelines show in this picture.
Just before a trip begins, our drivers wipe down the common touch areas, including the driver's compartment with a bleach based cleaner.
Included in our driver's PPE safety kit is instructions for sanitizing high touch services while on the road.
We are requesting the first row of seats directly behind and to the side of the driver remain empty to maintain physical distancing throughout travel.
This is from a video the airline industry (IATA) put together. The video can be watched here. Snipits from the video are pictured below. Our manufacturer has also created this video.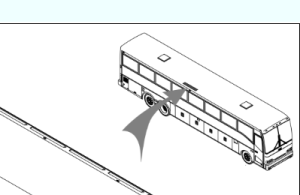 The last picture shows the fresh air intake for a VanHool motorcoach.
As for the air exchange – in a Van Hool, the air does flow downward, then back up to the HEPA filters as drawn. Also from Van Hool, a hospital air exchange rate is 6 times per hour; an airplane 12 times per hour, a motorcoach 30 times per hour.
Passengers
It is a shared responsibility to help protect each other. We understand each group will have their own unique set of needs for social spacing. John Grzywacz discusses various scenarios in this video:
Prior to your travel dates, we recommend you go on to Test Iowa and fill out the survey to see if you should be tested. 
As a passenger on one of our motorcoaches, please consider wearing a protective mask, wash your hands frequently, take advantage of hand sanitizers, and follow the recommended guidelines by the CDC on illness prevention. While we do have hand sanitizer and disinfecting wipes on board, we encourage you to bring your own.
When loading the motorcoach, fill the bus from back to front. As you wait in line, maintain physical distancing. It is the responsibility of the group leader to implement the appropriate distancing of their group. If you need assistance loading and disembarking the motorcoach, wear gloves to create that additional barrier between you and our driver's gloved hand. 
Our bathrooms will remain unlocked. However, we recommend keeping usage of the bathrooms for emergencies only. We will stop as frequently as requested to limit the usage of the onboard facility. Please allow enough time in your itinerary to make these restroom stops.
Monitor your personal health. If you have been exposed to a contagious virus and/or have a fever or other symptoms please postpone your travel. 
Check back to this page for updates. The date of this current publication is September 4, 2020. 6th Update