07 Oct

I'm Going to "Jump" as I Choose "Joy"
So many newsletters have had that 80's theme. With the death of Eddie Van Halen, I thought this newsletter should pay tribute to him. Then, the song "Joy" by King and Country plays on my radio this morning. It moved me a couple of weeks ago, too. So, here is where my 80's rock joins today's Christian music.
Are you ready to "Jump" and choose "Joy" with me? Let's GO!
Lately, I've been reading, watching the nightly news
Don't seem to find the rhythm, just wanna sing the blues
Feels like a song that never stops
Do you feel this way? Yesterday, I created the video below. Last night there was news that President Trump was requesting negotiations to stop on a relief package. Today, I see a headline that President Trump WILL back specific relief measures. SO…. what does that mean? That means we don't STOP. We JUMP
Ah, might as well jump (jump)
Might as well jump
Go ahead and jump (jump)
Go ahead and jump
Ow, oh, hey, you
Who said that?
Baby, how you been?
You say you don't know
You won't know until you begin
Please take 3 minutes and JUMP into action with me. Click this link and let our elected officials know the CERTS Act needs to be specific relief measure passed.
I even tweeted out another Van Halen song yesterday to our elected officials. Why Can't This Be Love? 
I've got what it takes. We will stand the test of time. Straight from my heart. 
Gotta get that fire, fire, back in my bones
Before my heart, heart, turns into stone
So somebody please pass the megaphone
I'll shout it on the count of three
One, two, three
I have sent 11 official letters now. Countless emails. When our elected officials told me to keep in contact, do you think they knew what they were unleashing?
It isn't just me. It isn't just Iowa. It is the nation. Last month we had 32 Senators and 65 Congressmen/women. Look what we have today!
OH – and now I have information for the leaders:
Senate Majority Leader Mitch McConnell: PH: 202-224-2541; email
Senate Minority Leader Charles Schumer: PH: 202-224-6542; email
House Speaker Nancy Pelosi: PH: 202-225-4965; email
House Minority Leader Kevin McCarthy: PH: 202-225-4000; email
Shout it to the count of 3 with me! Contact them and let them know what the motorcoach industry means to you.
Bipartisan Support in the Senate and House with a MAJORITY. BUT – they still need to hear from all of us to push this through.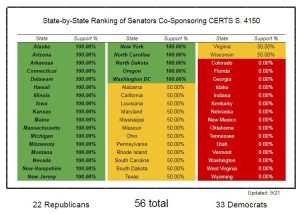 And I choose joy
Let it move you, let it move you, let it move you
Yeah, I choose joy
Let it move you, let it move, let it move you
We chose joy at CIT and had  a first-time event. When you have a large lot, huge overhead doors, and a system collecting dust…………………you host a drive-in movie. We had so much fun, we will do it again this month!
Oh, hear my prayer tonight, I'm singing to the sky
Give me strength to raise my voice, let me testify
Oh, hear my prayer tonight, 'cause this is do or die
The time has come to make a choice
I have one more request. I posted this prayer on my personal Facebook on Sept. 17th. I ask that you read it now. For every time it is read, the prayer is sent. Thank you.
Dear Lord,
You know my heart, my soul. Thank you for giving me the strength to tackle each day, moving forward one step at a time for my family – not just those on my family tree, but also my CIT family, my motorcoach family, my tourism family. Thank you for whispering words of encouragement, having just the right message cross my path when I need it most. Thank you for the faith you have instilled in me. For, because of you, I know my life has a plan, a purpose, and you will be there guiding me with every step – even misstep – I take.
My prayer will be specific now. Please whisper in the ears of our nation's elected officials. Tell them my industry needs their help. The power for federal assistance is in their hands. We have educated them with our facts, shared our reality of devastation, give them the courage to be our voice. Give them strength to stand up for our industry and provide us with the tools, funds, we will need to survive. A lifeline is needed now. For if they return to their homes without the passage of the CERTS Act, many in my industry family will perish before November.
I am calling on your angels to not only whisper in our elected officials' ears, but to also be there to give strength to my motorcoach/tourism family. Let them feel your great love and support. Give voice to the voiceless, strength to the weak and continued patience in this storm.
In Christ's name, Amen.
Can you guess where our focus has been? Our focus is there so we can still be here when you need us. We may have it tough, but that is why the fire is in our bones and we are going to JUMP with the joy that is down in our hearts.
Kim Grzywacz, CTIS