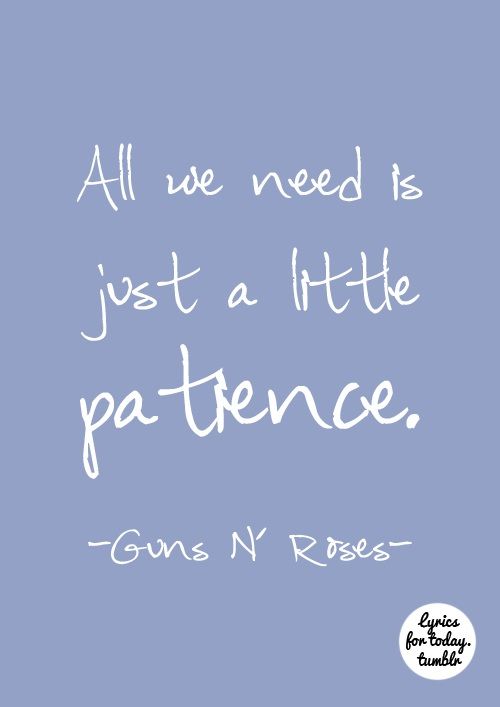 06 Aug

Patience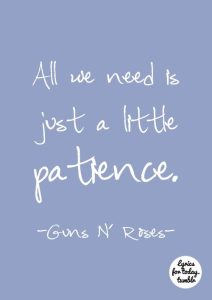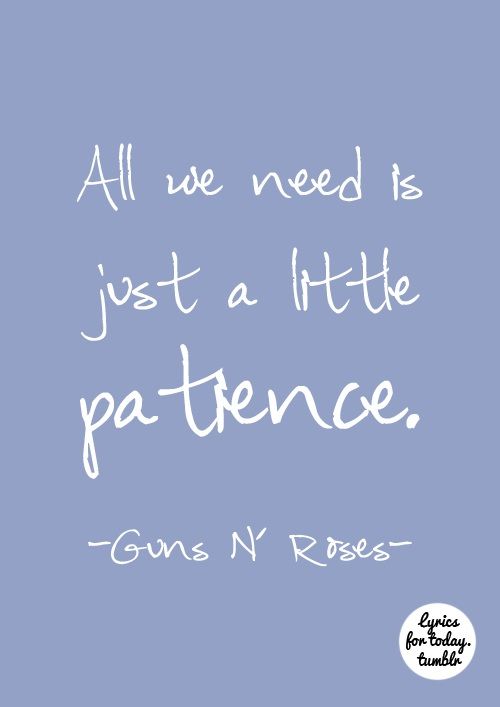 Patience. Sigh. I once prayed for patience. What a mistake that was! I learned my lesson. Do you know how you get patience? By practicing it. Do you know how God chose to help me practice? He gave me a classroom full of challenges. FULL. I haven't prayed for patience since. So, I would like to know WHO prayed for it in 2020. LOL. Seriously, though. Raise your hand if you are ready for less patience and more visible forward progress. Me, too.
Shed a tear 'cause I'm missin' you
I'm still alright to smile
I miss you! We want to be here when you are ready to roll. I have been working so hard advocating for our small, family business and our industry. When Senator Grassley spoke from the Senate floor on our behalf, I did shed a tear. My patience and persistence is making a difference. We are being heard.
LINK: Grassley on the Motorcoach Industry
Said "woman take it slow, and it'll work itself out fine"
All we need is just a little patience
Said "sugar make it slow and we'll come together fine"
All we need is just a little patience (Patience)
Mm, yeah
I am a salesman. It is true. And, in a sales world, you keep track of your closing ratio. Well, for Iowa, I currently have a closing ratio of 83%. I haven't done this alone. This is due to working with the other motorcoach companies in Iowa and because of you. When you speak on our behalf, the volume of our message turns up. Thank you.
LINK: CERTS Act in the House
Last month, the link above connected you with our Senators. This month, our Congress men and women. The CERTS Act will provide the motorcoach industry with funds to survive until group travel returns.
With the campaign in the Senate, Iowa finished 7th!!! Currently, for the House, we are in 19th place. Come on, neighbor, help Iowa finish strong! Click the link above and take 2 minutes to voice your support.Thank you.
Hope: The CERTS Act now exists in BOTH the Senate (S4150) and House (HR 7642). It was introduced into both chambers with Bipartisan support. No one has answered my question, but I have asked, "How often does the same act get introduced in BOTH chambers with Bipartisan support?" It gives me hope,
In May, Senator Ernst signed a Dear Colleague letter of support for our industry. Linked above is Senator Grassley speaking on the Senate Floor. I consider this 100% closing ratio.
In the House, Congressman Loebsack, Congressman King, and Congresswoman Axne have now co-sponsored the CERTS Act. That leaves Congresswoman Finkenauer to be the only Iowan not documenting her support. I consider this a 75% closing ratio. And, I am not done requesting action from Congresswoman Finkenauer. If you live in her district, please speak to her and why motorcoaches are important to you. For the others, please thank them for their support.
But you set my mind at ease
There is no doubt you're in my heart now
OH How FUN it is to transfer athletes that have made it to the state tournament. School buses are fine, but a motorcoach -with air conditioning, comfortable seats, and a smooth ride. Yes, that's how you treat a state-qualifying team!
We were honored to transport the Collins-Maxwell Spartan softball and the Gilbert Tigers baseball teams. Both had a runner-up finish. It was a complete joy to be a part of their season.
LINK:  Gilbert Tiger Baseball to State
If I can't have you right now, I'll wait dear
Sometimes I get so tense but I can't speed up the time
What are we doing while we wait? Check these posts out by Emily Grzywacz:
LINK: I Can't Wait to Get on the Road Again
We continue to update our website with our enhanced protocols as we gain more information and best practices. July 23rd was our 5th update.
LINK: Enhanced Protocols for Virus Mitigation
We are very pleased to announce that we have become AssurClean Certified. You can read more about this in the below article.
LINK: AssurClean: CIT Signature Transportation's Continued Commitment to Safety
It looks like I found my 80's voice again. 🙂 Patience. If you find yourself being a bit tired of waiting, call me. We can chat and make the time fly with a great conversation.
And, today, my soul was lifted with this song: Survivor by Zach Williams May it also lift yours as we survive.
Kim Grzywacz, CTIS