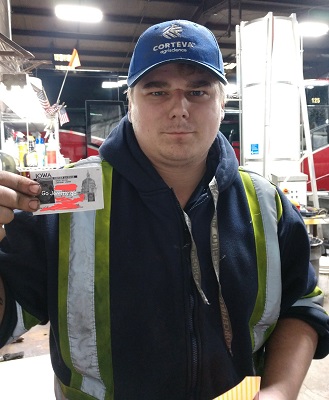 10 Jul

A Look of Determination

As an English instructor at a local community college, I develop curriculum, lesson-plan, and grade. Back in the days before the COVID-19 outbreak, I often inhabited local cafes—Starbucks was my location of choice—and used them as an office to get my schoolwork done. On some of these days, my brother, Jeremy Grzywacz, would accompany me. He always brought his Commercial Driver License Manual, a highlighter or pen, and a look of determination (see image below for that look). He was ready to study. As a teacher, that's what I like to see. Jeremy was studying for the Knowledge Test portion of the CDL acquisition process. Though Jeremy is a Service Writer at CIT Signature Transportation (CIT), he wanted to understand what the drivers experience to better support his team and maybe drive a trip or two. In order to do this, Jeremy needed a CDL. According to the Iowa DOT on their "Commercial Vehicles/CDL" page,  getting a CDL has four steps:
Knowledge Test

Commercial Learner's Permit (CLP)

Skills Test
Pre-Trip Vehicle Inspection Test

Skills Test (maneuvers around cones and backing maneuvers)

Driving Test (on public roads with examiner)
CDL
The Knowledge Test was a breeze for Jeremy due to his position at CIT as a Service Writer. Service Writers plan maintenance on the buses, so Jeremy was extremely familiar with the mechanics of a bus. Following the Knowledge Test, CLP, Pre-Trip Vehicle Inspection Test, and Skills Test, Jeremy was now on the third bullet point under number three of the DOT's list: the Driving Test. He found that talking to other drivers at CIT like Tim Holmes and Dan Ankebrant helped him to learn the tips that only those who have driven buses for years would know. Though he practiced often, Jeremy didn't pass the first time he took the Driving Test. He didn't pass the second time either. When asked why he thought he failed the first two times, he told me that "it wasn't a problem with studying; it was a problem with nerves." This can happen with my own students too. Failure doesn't always mean a lack of effort. Some of the hardest-working students fail at first. As I tell my students, it's what you choose to do following that failure that makes the difference. Will you give up, or will you keep trying? Jeremy chose the latter. He immediately scheduled another test. He kept studying, practicing, and soothing his nerves. This led to him reaching the fourth step of the process in March of 2020, passing and earning his CDL. 
As explained on CIT's Safety Practices page, CIT "prides itself on having the best roster of drivers available in the area. It is a result of rigorous screening and training." Jeremy is the newest member added to this roster of drivers with his look of determination still intact. Jeremy is the type of success story I tell to my students; just because you fail once or twice doesn't mean that you cannot succeed. Jeremy has succeeded and will continue doing so. He was determined to get his CDL, and now he is determined to provide exemplary service to CIT's riders. Book with us today to see Jeremy's look of determination in person while he drives your group safely to your destination. 
Written by: Emily Grzywacz